⏰ lettura
3
min.
19° ART Innsbruck
fiera internazionale di arte contemporanea & antiquaria
Dal 20 al 23 febbraio 2015, fiera Innsbruck
ART Innsbruck amplia il proprio programma.  Nell'ambito della 19° edizione, che si terrà dal 20 al 23 febbraio 2015, sarà possibile ammirare per la prima volta anche arte e antiquariato del XIX secolo.
È aria di cambiamenti e novità per ART Innsbruck. "Siamo ormai nel nostro ventesimo anno di vita", racconta la fondatrice Johanna Penz, che è alla guida della piccola e raffinata fiera internazionale di arte nel cuore delle Alpi. "Era giunto il momento di un rilancio e un nuovo orientamento pertinente."
Oltre all'arte moderna e contemporanea, a partire dal prossimo anno, ART Innsbruck amplierà il proprio portfolio proponendo arte ed antiquariato. "Con la nostra idea fieristica "Arte per appassionati e collezionisti" abbiamo proposto a un ampio pubblico in loco arte moderna e contemporanea a bassa soglia di accesso", sottolinea pacata l'organizzatrice della fiera.Un approccio che verrà perseguito anche in futuro con coerenza. In un'epoca di grandi sconvolgimenti cresce tuttavia anche l'interesse e la nostalgia nei confronti di valori durevoli, afferma Johanna Penz. Il desiderio di ampliare il programma della fiera per abbracciare il mutevole secolo le è stato sottoposto sia dai partner che dagli espositori fedeli all'evento ormai da anni. In fondo, lo stretto dialogo con i propri numerosi e fedeli espositori, gli artisti e i collezionisti ha modellato e portato avanti la fiera nel corso degli anni, afferma convinta la Penz. "Gli impulsi al cambiamento devono sempre provenire dai portatori di interessi stessi." Perciò, la 19° ART Innsbruck, dal 20 al 23 febbraio 2015, si terrà per la prima volta all'insegna del motto "Arte nei tempi" e offrirà ai propri visitatori come sempre un appuntamento con l'arte moderna e contemporanea con le icone dell'età moderna classica, i principali rappresentanti dell'arte contemporanea in Austria, le new entry e le "nuove star" del programma delle gallerie espositrici. Inoltre, per la prima volta ART Innsbruck inviterà il proprio pubblico a un viaggio nel penultimo secolo. Oltre a dipinti e sculture, i nuovi espositori di ART porteranno a Innsbruck anche prezioso artigianato artistico in materiali quali porcellana, vetro, stagno, tappeti e gioielli antichi.
Sei un Gallerista e sei interessato a partecipare? scrivi a  info@biancoscuro.it, saremo lieti di collaborare con te o presentarti alla direzione.
Sei un artista interessato, sia come visitatore che come espositore, contattaci subito allo 0382.1902778 oppure scrivi info@biancoscuro.it saremo a tua disposizione per darti la possibilità di essere presente.  Si raccomanda di scrivere nell'oggetto: "ART Innsbruck 2015"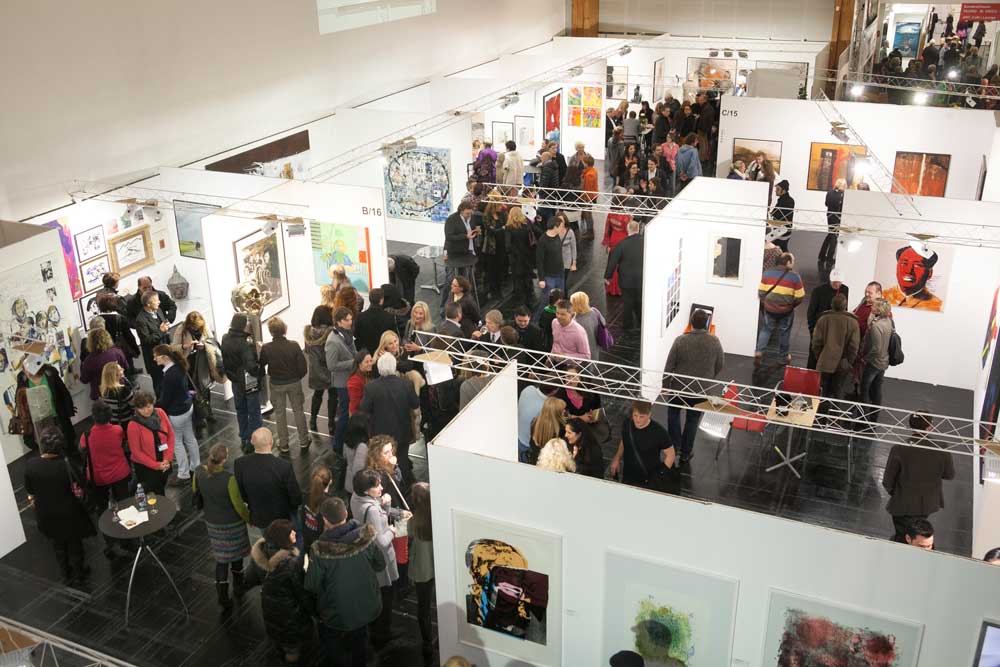 19th ART Innsbruck 20.-23.2.2015
Good News! Art & Antiques from the 19th (together with 20th + 21st) century for the very first time.
New at ART Innsbruck: art of the centuries
The Innsbruck art fair is expanding its programme.  Art and antiques from the 19th century will be on display at the 19th ART Innsbruck from 20 to 23 February 2015 for the very first time.
At ART Innsbruck, the focus is on transformation and change. "We are now in our 20th year of existence," says the founder Johanna Penz who has been managing this small yet refined international art fair at the heart of the Alps since the outset. "It was the right time for a re-launch and a consistent new focus". In addition to the international art from the 20th and 21st centuries, ART Innsbruck will also be including 19th century art and antiques in its collection from next year. "We have made modern and contemporary art easily accessible to a broad audience in the region with our concept of 'art for art lovers and collectors'" says the enterprising fair manager. This approach will be continued. During times of great upheaval, the desire for and interest in lasting values automatically grows, according to Penz. The desire to expand the exhibition programme to reflect the dazzling century of promoterism was expressed by long-term partners and exhibitors as well as the ART regulars. Penz is convinced that this close dialogue with the many regular exhibitors, artists and collectors is what has shaped and fuelled the exhibition over the years. "The motivation for change should always come from those involved". The 19th ART Innsbruck will therefore take place under the motto of 'art of the times' for the first time from 20 to 23 February 2015. And of course, visitors can enjoy the very best of modern and contemporary art with icons of classic modernist, the key representatives of contemporary art in Austria and the newcomers and shooting stars from the programmes of the exhibiting galleries. ART Innsbruck will also take its audience on a journey back in time to the century before last for the first time. In addition to paintings and sculptures, the new exhibitors at ART will also bring an exquisite range of artwork made from porcelain, glass, tin, rugs and antique jewellery to Innsbruck with them.
ART Innsbruck
70 Exhibitors: gallery, art dealers and publisher from 10 nations. Works of over 700 artists. 
INFORMATION
ART Kunstmesse GmbH.
Gutenbergstraße 3
6020 Innsbruck
Tel. +43(0)512 567101
info@art-innsbruck.at
www.art-innsbruck.at